Beginning from 2019.01.01 PWM Edition is not going to process any orders placed in internet shop by individual customers from countries other than Poland. Please find your local distributor on the list, or order our sheet music through the Hal Leonard online shop: http://www.musicshopeurope.com http://www.halleonard.com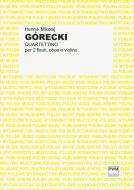 Quartettino
Op. 5 for 2 Flutes, Oboe and Violin
Countries of delivery:

Quartettino, one of Górecki's early compositions, was written when he was still a student at the State Higher Music School in Katowice. It was first performed in February 1958 during his public debutante's concert organized by the school authorities a high distinction for a student. This three-section piece, placed on the programme beside other works such as Toccata, Variations, Sonata for two violins, was distinguished by its unusual instrumentation: combination of two flutes, oboe and violin. Like the other pieces, the work not only charmed the experts of this kind of music, but also caused real amazement, as it revealed Górecki's excellent knowledge of new compositional techniques (e.g. dodecaphony), with which most Polish composers were still not acquainted. [Based on A. Thomas, Górecki, Kraków 1998, PWM]
Cover: softcover
Type: score and parts
11,00 EUR
Suggested retail price.