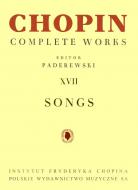 Songs, CW
for Solo Voice with Piano Accompaniment
Countries of delivery:

Inspired by texts by Polish poets contemporary to Chopin, improvised "with the book of poetry in front of him" at emgirants' meetings, unfinished, some noted only in sketch form, never pblished during the composer's lifetime, though some instantly gained huge popularity in the form of reductions. In Chopin's creative output they hold a marginal position, among Polish songs – they are outstanding.
These works were edited by by I. J. Paderewski, L. Bronarski and J. Turczyński. 
Series: Chopin, CW (ed. Paderewski)
ISMN 979-0-2740-0266-4
Language of edition: eng
Language of text: pol
Number of pages: 100
Cover: softcover
No. of edition: 13
Published: 2017
Type: solo part (vocal) + accompaniment
Size: N4 vertical (235x305 mm)
Table of contents:
| | |
| --- | --- |
| Chopin Fryderyk, Witwicki Stefan | Witchcraft |
| Chopin Fryderyk, Zaleski Bohdan | Song |
| Chopin Fryderyk, Zaleski Bohdan | Death's Divisions Op. 74 No. 11 |
| Chopin Fryderyk, Witwicki Stefan | A Girl's Desire Op. 74 No. 5 |
| Chopin Fryderyk, Witwicki Stefan | A Drinking Song Op. 74 No.4 |
| Chopin Fryderyk, Pol Wincenty | Leaves Are Falling Op. 74 No. 17 |
| Chopin Fryderyk, Krasiński Zygmunt | Elegy Op. 74 No. 9 |
| Chopin Fryderyk, Mickiewicz Adam | My Sweetheart Op. 74 No. 12 |
| Chopin Fryderyk, Witwicki Stefan | The Betrothed Op. 74 No. 15 |
| Chopin Fryderyk, Zaleski Bohdan | Faded and Vanished Op. 74 No. 13 |
| Chopin Fryderyk, Witwicki Stefan | The Ring Op. 74 No. 14 |
| Chopin Fryderyk, Osiński Ludwik | A Lithuanian Song Op. 74 No. 16 |
| Chopin Fryderyk, Witwicki Stefan | The Messenger Op. 74 No. 7 |
| Chopin Fryderyk, Mickiewicz Adam | Out of My Sight Op. 74 No. 6 |
| Chopin Fryderyk, Witwicki Stefan | Sad River Op. 74 No.3 |
| Chopin Fryderyk, Zaleski Bohdan | The Handsome Lad Op. 74 No. 8 |
| Chopin Fryderyk, Witwicki Stefan | Spring Song Op. 74 No.2 |
| Chopin Fryderyk, Witwicki Stefan | The Warrior Op. 74 No. 10 |
| Chopin Fryderyk, Witwicki Stefan | A Young Girl's Wish Op. 74 No. 1 |