Beginning from 2019.01.01 PWM Edition is not going to process any orders placed in internet shop by individual customers from countries other than Poland. Please find your local distributor on the list, or order our sheet music through the Hal Leonard online shop: http://www.musicshopeurope.com http://www.halleonard.com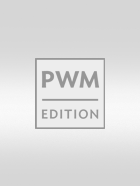 Songs of Joy and Rhythm
Op. 7
Countries of delivery:

The original version of the Songs of Joy and Rhythm, composed in 1956, was the first, apart from Górecki's juvenile pieces, work scored for more than four instruments, i.e. single woodwind, trumpet, timpani and percussion, celesta, two pianos and eight violins. That version of the songs (I Prelude and Toccata, II Recitativo-etude, III Lyrical Prelude and IV Little Piano Concerto) was performed in Katowice in 1958. Soon, however, it was withdrawn and was never published. The present version, published and premiered only thirty years later, was written in 1959-60. Just as its prototype, it consists of four songs, though with different titles: I Marcato, II Con moto, III Non troppo and IV Ritmico. The title of the cycle is taken from a poem by Julian Tuwim, who describes his feeling of ecstasy experienced under the ''dome'' of stars. Górecki's songs are meant to be a musical image of the emotion. The individual movements of the cycle are marked by a thematic unity formed by the sound ''motto'' of the composer, permeating his music from the mid-1960s, the source of which should be sought, in his opinion, in the oldest Polish religious song Bogurodzica (Mother of God). [Based on A. Thomas, Górecki, Kraków 1998, PWM]
23,00 EUR
Suggested retail price.


Other author's publications
2-3 pianos with orchestra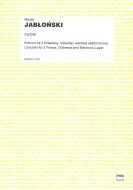 Maciej Jabłoński

Fuori
48,00 EUR Suggested retail price.