Beginning from 2019.01.01 PWM Edition is not going to process any orders placed in internet shop by individual customers from countries other than Poland. Please find your local distributor on the list, or order our sheet music through the Hal Leonard online shop: http://www.musicshopeurope.com http://www.halleonard.com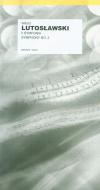 Symphony No. 2
Countries of delivery:

Witold Lutosławski's ''Symphony no. 2'' was created in stages. The second link of the two-part cycle - ''Direct''was realised first and then the preceding component, ''Hesitant'', which was added later as an extensive prologue to the dramatic main part. Although both parts of the Symphony are significantly different, they weren't divided by a ceasura, but the end of the first and the beginning of the second overlap each other in such a way that their point of contact is not concentrated in one place, but spread in time. Apart from the title and the fact that it is intended for a large orchestra, Lutosławski's ''Symphony no. 2'' has nothing to do with traditional symphony. Its form consisting of two parts of an uneven importance was applied earlier by Lutosławski in the ''String Quartet'', however here we have to do with its perfect form leading the main part through other stages of the dramatic culmination, closing the opus with the lyrical coda so characteristic of the composer.
45,00 EUR
Suggested retail price.