Beginning from 2019.01.01 PWM Edition is not going to process any orders placed in internet shop by individual customers from countries other than Poland. Please find your local distributor on the list, or order our sheet music through the Hal Leonard online shop: http://www.musicshopeurope.com http://www.halleonard.com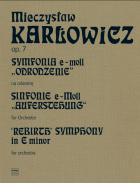 Symphony in E minor 'Rebirth'
Op. 7
Countries of delivery:

Work on this piece began in the spring of 1899 durng Karłowiczs studies in Berlin and he finished it after graduating and returning home in June 1902. Its premiere took place on March 21, 1903 in Berlin, and the Polish premiere on April 7, 1903 in Lviv. The symphony has a classic, four-movement structure, but in terms of architecture it is much closer to symphonic poems. It consists of the movements: 1. Andante. Allegro 2. Andante non troppo 3. Vivace 4. Allegro maestoso. ''In terms of orchestration and instrumentation technique it represents Karłowiczs early, academic period. The composer still used double wind enriched with piccolo flute, unlike in his later orchestral works the symphonic poems. The orchestration of the work indicates that the composer was guided by Tchaikovskys symphonic model. Karłowicz here still willingly operates with various sound blocks of entire instrumental groups, treating them in a choral manner, with tight chordal pillars'' (Leszek Polony). Before the Polish premiere the composer gave a comprehensive literary programme of the work in the Lviv newspaper Słowo Polskie, in which he referred to each consecutive movement of the Symphony. In his last words he wrote, ''We hear a hymn of revival, at first quiet and sweet, then wider and wider, and fuller. Already the time has come; to hear the fanfare. Only one more step! And although the spirits fall again in doubt, we hear a powerful and solemn hymn of rebirth.''
Series: Karłowicz - Works
ISMN 9790274017224
Language of edition: eng, ger, pol
Number of pages: 248
Cover: hardcover
Type: score
Size: N4 vertical (235x305 mm)
90,00 EUR
Suggested retail price.