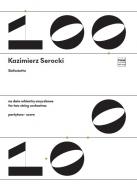 Sinfonietta per due orchestre d'archi
Countries of delivery:

Sinfonietta for two string orchestras The first movement (Allegro), is composed in sonata form, the second (Adagio) - in a free form of passacaglia. The third movement is a mixture of a sonata form and classical rondo. This movement is very energetic and vivid and contains bears the main expressive argument of the whole work. Sinfonietta is an virtuoso piece with a nice, cheerful character. The conherence of the work centres on connections found in the 1st and 3rd movements. Poliphony implied in the piece is a result of using two orchestras which communicate in a very consistent way. Sinfonietta seems a less agressive compared to other works by Serocki. It represents a new type of expression and emotionality in the composers work, which is a result of emplying new technical devices - the main point of composer's interest in the piece.
ISMN 979-0-2740-1948-8
Cover: softcover
No. of edition: 4
Published: 2018
Type: score
Size: N4 vertical (235x305 mm)