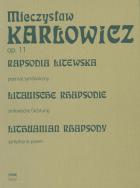 Lithuanian Rhapsody Op. 11
Symphonic Poem for Orchestra
Countries of delivery:

The Lithuanian Rhapsody (Rapsodia litewska), Op. 11 is the third - after Returning Waves (Powracające fale) and Eternal Songs (Odwieczne pieśni) - of the six symphonic poems by Mieczysław Karłowicz. Composition was probably taking shape during the summer months of 1906 in Warsaw.
Lithuanian Rhapsody differs significantly from the other parts of 'programme cycle' which Mieczysław Karłowicz's symphonic poems may be regarded as forming. This is a work based primarily on thematic material derived from folk output (something that would never again occur in the composer's brief biography), compared with the earlier score of Eternal Songs or the later Stanisław and Anna Oświęcim (Stanisław i Anna Oświęcimowie) it displays much greater stylistic independence of the German music embodied around the turn of the twentieth century.
Series: Karłowicz - Works
ISMN 979-0-2740-1106-2
Language of edition: eng, ger, pol
Number of pages: 26+62
Cover: hardcover
Published: 2015
Type: score
Size: N4 vertical (235x305 mm)