Beginning from 2019.01.01 PWM Edition is not going to process any orders placed in internet shop by individual customers from countries other than Poland. Please find your local distributor on the list, or order our sheet music through the Hal Leonard online shop: http://www.musicshopeurope.com http://www.halleonard.com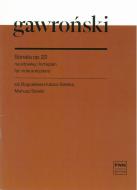 Sonata
for Viola and Piano
Countries of delivery:

Wojciech Gawroński's Sonata, Op. 22 for viola and piano, probably composed at the very end of the nineteenth century, is by any standards worthy of attention. It is of crucial historical significance, as the first known Polish chamber work to use viola. Admittedly, in his Trio in G minor, Op. 8, completed probably in the spring of 1829, Fryderyk Chopin considered the question, after one performance, of possibly 'using viola instead of violin', but it is Gawroński's Sonata that is currently regarded as the first cyclical work for viola in the Polish musical literature. The only earlier work is Henryk Wieniawski's Rêverie, dating from the times when the composer himself occasionally played viola in a string quartet (1859).
The Sonata opens with a dignified polonaise theme, which, together with the intertwining quick triplet second theme, forms the basis for the quite distinct sonata allegro form. The second movement, a gloomy, solemn funeral march in ABA1 form, is followed by a third movement ripe with humour, but mixed with a touch of reflection, in a quite elaborate sonata-rondo form.
Compared to the quite abundant, albeit little known, British and German literature for viola and piano from the turn of the twentieth century (e.g. York Bowen, Arnold Bax, Robert Fuchs, Friedrich Kiel), this work is an extremely interesting, if rather forgotten, example.

Bogusława Hubisz-Sielska
translated by John Comber
 
ISMN 979-0-2740-2099-6
Language of edition: eng, pol
Number of pages: 42+16
Cover: softcover
No. of edition: 2
Published: 2019
Type: solo part (instrumental) + accompaniment
Size: N4 vertical (235x305 mm)
13,00 EUR
Suggested retail price.


Other titles in the series