Beginning from 2019.01.01 PWM Edition is not going to process any orders placed in internet shop by individual customers from countries other than Poland. Please find your local distributor on the list, or order our sheet music through the Hal Leonard online shop: http://www.musicshopeurope.com http://www.halleonard.com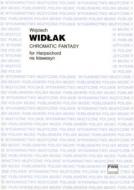 Chromatic Fantasy
('The Son Is Scrumptious') for Harpsichord
Countries of delivery:

The work is based almost entirely on one, five-note motive e-d sharp-c sharp-d-c, which undergoes contrapuntal and metro-rhythmic transformations and transpositions and determines the music both horizontally and vertically. In the ''Fantasy'' one observes the precedence of strict construction, to which expression has been subordinated to a certain extent. This feature distinguishes the work from many of those I have written before. One of the essential elements of this composition, lasting c. eight minutes, is constant variability of the temporal and metrical frames of the main motive. This variability finds its expression in the overlapping of several musical layers having a different temporal dimension (as can be seen, for instance, in the initial passage with the structure of a canon derived from the main motive, in which succesive parts enter with ''increasing speed''). The ''mysterious'' subtitle of the work is a joke based on a pun derived from the name of the instrument and in no way refers to the fully serious music of the ''Fantasy''. [W. Widłak]
Series: Contemporary Music
ISMN M-2740-0114-8
Language of edition: eng, pol
Number of pages: 20
Cover: softcover
Type: instrumental solo
Size: A4 vertical (210x297 mm)
10,00 EUR
Suggested retail price.