Beginning from 2019.01.01 PWM Edition is not going to process any orders placed in internet shop by individual customers from countries other than Poland. Please find your local distributor on the list, or order our sheet music through the Hal Leonard online shop: http://www.musicshopeurope.com http://www.halleonard.com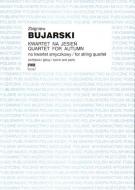 Quartet for Autumn
Countries of delivery:

Cat. no. 10181

ISBN ISSN: 83-224-0795-5
''Quartet for Autumn'' is the fourth and so far the last of my string quartets. I hope it is not the last. I have a ''Quartet for Christmas'' planned. Probably, after writing a large symphonic work, there will be time - as it has usually happened with me - to return to a more intimate, ''private'' work, achievable in music for a small ensemble. The genre of string quartet is akin to a private letter a composer writes to a specific addressee, perceiving the quartet music of other composers in a similar way - as a private correspondence between individual persons. I find the very personal character of such music as well as the high requirements that the string quartet technique imposes on the composer highly congenial, and as long as I live, I will be faithful to it. [Zbigniew Bujarski]
Series: Contemporary Music
Language of edition: eng, pol
Number of pages: 38+8+12+12+8
Cover: softcover
Type: score and parts
Size: A4 vertical (210x297 mm)
22,00 EUR
Suggested retail price.