Beginning from 2019.01.01 PWM Edition is not going to process any orders placed in internet shop by individual customers from countries other than Poland. Please find your local distributor on the list, or order our sheet music through the Hal Leonard online shop: http://www.musicshopeurope.com http://www.halleonard.com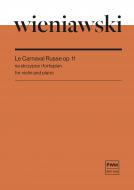 Le Carnaval Russe
Op. 11 for Violin and Piano
Countries of delivery:

Cat. no. 10143

ISBN ISSN: 83-224-0759-9
''Russian Carnival'', Op. 11, composed in 1852 during the seventeen-year-old virtuoso's grand Russian tour, consists of twelve variations based on a Russian folk song ''Po ulice Mostowoj''. The theme - a lively, boisterous tune (allegro), full of feeling, perfectly suits the burlesque nature of ''Russian Carnival''. The individual variations constitute a tonal illustration of colourful, sometimes almost tawdry scenes, irresistibly bringing to the listener's mind a vision of a gay carnival masquerade. In this work Wieniawski demonstrated an unusual inventiveness in texture, changes of tempo, tonalities and moods. Andante and maestoso, con fuoco, capriccioso and adagio are used as well as allegro and the minor mode as well as the major. The young composer's invention in the field of virtuoso technical effects is also inexhaustible. He exploits breath-taking figurations, colourful double staccatos, chains of trills, spectacular left-hand pizzicatos and successions of harmonics - to name but a few. Some of the variations may be described as representational, e.g. var. 7, played sul ponticello in its entirety, brings to mind a street musician; var. 8 with its tremolando - the balalaika, while var. 11 may depict playing on the saw. The theme should be played ''tres fantastiquement'', and the whole was described by the composer - aptly - as ''humorous variations and improvisations''. In the present edition the part for the accompaniment has been entrusted to the piano. The composer's version for orchestra is seldom performed today. [Antoni Cofalik]
Series: Educational Series
Language of edition: eng, pol
Number of pages: 28
Cover: softcover
No. of edition: 1
Published: 2002
Type: solo part (instrumental) + accompaniment
Size: N4 vertical (235x305 mm)
12,00 EUR
Suggested retail price.