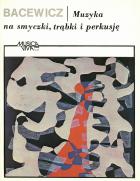 Music for Strings, Trumpets and Percussion
Countries of delivery:

The work was written in 1958. In addition to the Concerto for String Orchestra and the String Quartet No. 4, it is one of the most popular and most frequently performed compositions by Grażyna Bacewicz. The first performance of the work, dedicated to Jan Krenz, took place in 1959 during the ''Warsaw Autumn'' Festival. Written in the same year as Lutosławski's Funeral Music, the composition is a homage paid to Bela Bartók and in its texture it makes explicit reference to this great Hungarian composer's Music for Strings, Percussion and Celesta by isolating the concertante groups or individual instruments, using stringend harmonies or providing considerable contrasts of expression.
Series: Musica Viva
Language of edition: pol
Number of pages: 128
Cover: softcover
Type: score
Size: N4 vertical (235x305 mm)
48,00 EUR


print on demand