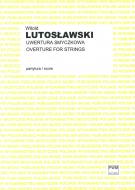 Overture for Strings
Countries of delivery:

The Overture for Strings was composed by Lutosławski in 1949 and dedicated to Mirko Očadlík, at that time director of the Radio Orchestra in Prague. After the world premiere in Prague, and the Polish premiere a year later, the work basically disappeared from concert stages. Lutosławski himself explained the lack of interest in his Overture in the following manner: The work is enormously impractical, because it requires quite a bit of work, but lasts only 5 minutes. For the most part, after listening to it, the audience is completely disoriented, despite the long final chord which crowns the work. Evidently people expect the work to be longer. When Wisłocki conducted this work at the Warsaw Philharmonic, at the end there was not even one round of applause. He didnt know what to do, he had the orchestra stand up, and then left [...]. In the Overture - written according to the traditional sonata form - influences from Bartóks style are clearly in evidence as a basis for shaping the musical material, Lutosławski uses synthetic scales. These are two different eight-note scales the primary theme of the overture is based on two four-note cells, a tritone apart (a-b-c-d d#-e-f#-g#). The second scale is comprised of successive chromatic notes (c-c#-d-d#-e-f-f#-g). With his Overture, Lutosławski began a period of searching for a new compositional language. In this piece appeared those elements which found development in his later ouvre.
Number of pages: 38
Cover: softcover
Type: score
Size: A4 vertical (210x297 mm)
16,00 EUR


print on demand
Other author's publications