Beginning from 2019.01.01 PWM Edition is not going to process any orders placed in internet shop by individual customers from countries other than Poland. Please find your local distributor on the list, or order our sheet music through the Hal Leonard online shop: http://www.musicshopeurope.com http://www.halleonard.com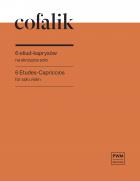 6 Etudes-Capriccios
for Violin
Countries of delivery:

These Etudes-Capriccios provide exercise material of an idiomatic nature, involving musical phrases and characteristic arrangements of notes such as are found in compositons in virtuoso style and also throughout the entire repertory of great violin works (Bach, Paganini, Wieniawski and other). The collection was written with the intention of introducting the player to performance problems encountered in some concert compositons, as an earlier familiarity with and mastering of material comprised in it ought to contribute considerably to the improvement of work on the concert repertory.
Language of edition: eng, pol
Number of pages: 28
Cover: softcover
No. of edition: 2015
Type: instrumental solo
Size: N4 vertical (235x305 mm)
12,95 EUR
Suggested retail price.


Other author's publications