Beginning from 2019.01.01 PWM Edition is not going to process any orders placed in internet shop by individual customers from countries other than Poland. Please find your local distributor on the list, or order our sheet music through the Hal Leonard online shop: http://www.musicshopeurope.com http://www.halleonard.com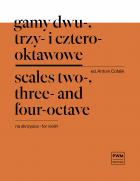 Scales
Two-, Three- and Four-Octave for Violin
Countries of delivery:

In the first part of this collection we find selected two-octave scales in first position intended for beginners. Something new when compared to those arrangements in use is the introduction of broken chords for the harmonic triads (T-S-D). This reinforces the young violinists sense of function, developing harmonic hearing. A feature of our publication is our seeking rhythmic regularity and proportionality of individual sections of the scale. This type note layout gets the player used to metrical-rhythmical playing and teaches formal discipline. Part II two-octave scales with a change of position, more extensive passages and double-stopping is more demanding. Smooth transition from upward direction of movement to downward (without stopping on the highest note) gives the scales ''melodiousness''. I based the three-octave studies (Part III) on Das Skalensystem by Carl Flesch, expanding them in the direction virtuosic fluency. Not being an advocate of the exclusive use of single-name scales (as they are often played), I have divided major from minor and placed them in separate blocks. Starting both blocks from the lowest note (g) takes gradation of difficulty into account - climbing to ever higher positions. Selected four-octave scales (Part IV), without the ''flourishes'', are intended for more ambitious pupils, students, as well as for mature violinists who want to maintain maximum technical capacity for many years. Two-octave scales on the G string (Part V) are excellent training for changes of position (smooth movement of the hand around the neck) and a way to quickly warm up. I resigned from the carrying the latter onto the other strings, believing that the ability to play in high positions on the D and A strings is not as essential as on the G string (on the E string we get it in four octave scales and three octave scales that begin higher up). [Antoni Cofalik]
ISMN 979-0-2740-0801-7
Language of edition: eng, pol
Number of pages: 90
Cover: softcover
Type: instrumental solo
Size: N4 vertical (235x305 mm)
15,00 EUR
Suggested retail price.


Other author's publications