Beginning from 2019.01.01 PWM Edition is not going to process any orders placed in internet shop by individual customers from countries other than Poland. Please find your local distributor on the list, or order our sheet music through the Hal Leonard online shop: http://www.musicshopeurope.com http://www.halleonard.com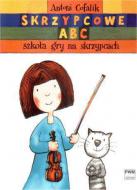 ABC of Violin
Violin Course - Part I and II
Countries of delivery:

Cat. no. 10139

ISBN ISSN: 83-224-0734-3
The course is meant to be a textbook for beginners - children of different ages. It may be used both in schools and kindergarten. The material is supplemented by scales, short exercises, studies and short pieces with titles. The whole has been divided into two parts. In the first, the student gets to know the basic elements of violin technique. The second part comprises position changes, staccato - one of the most ''violin-like'' kinds of articulation, more complicated rhythmical arrangements: the siciliana rhythm, triplets, syncopation and ornaments. The photographs and drawings may be of essential help to the student in his homework. The novelty of the course is its clear isolation of particular problems and tasks as well as their combination into one consistent whole.
Series: Educational Series
Language of edition: pol
Number of pages: 164
Cover: softcover
No. of edition: 10
Published: 2018
Size: N4 vertical (235x305 mm)
25,00 EUR
Suggested retail price.