Beginning from 2019.01.01 PWM Edition is not going to process any orders placed in internet shop by individual customers from countries other than Poland. Please find your local distributor on the list, or order our sheet music through the Hal Leonard online shop: http://www.musicshopeurope.com http://www.halleonard.com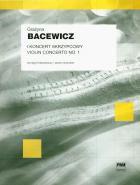 I Violin Concerto
piano reduction
Countries of delivery:

''The music of the Concerto flows smoothly and in an unaffected manner typical of the ''real'' eighteenth-century classical concertos. Thus there is no usual disparity between the ''pattern'' and its neoclassical ''interpretation''. In fact, what matters here is not ''interpretation'' or ''distortion'', but a complete integration of the traditional model with the composer's own stylistical idiom. The composition follows the pattern of the classical concerto with its three-movement form and its dramatic progress typical of the genre (...). The ''classical'' orchestra conducting a subtle dialogue with the solo instrument adds a transparent quality to the orchestration, although there are also some passages of richer sonority in the Concerto. [M. Gąsiorowska, op. cit.]
ISMN 979-0-2740-0632-7
Language of edition: eng, pol
Number of pages: 32+16
Cover: softcover
No. of edition: 1
Published: 2009
Type: piano reduction, solo part (instrument)
Size: N4 vertical (235x305 mm)
25,00 EUR
Suggested retail price.


Other author's publications