Beginning from 2019.01.01 PWM Edition is not going to process any orders placed in internet shop by individual customers from countries other than Poland. Please find your local distributor on the list, or order our sheet music through the Hal Leonard online shop: http://www.musicshopeurope.com http://www.halleonard.com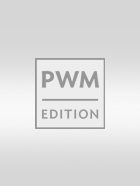 Cry Little Baby, Cry
miniconcerto for violin and chamber orchestra
Countries of delivery:

The piece was first heard at the Festival of Premieres in Katowice in 2011, performed by Piotr Pławner and the AUKSO Orchestra under the direction of Marek Moś. It consists of two movements. The soloist is accompanied by the orchestra with a particularly built up percussion section (orchestra: string quintet, oboe, clarinet, bassoon, French horn, trumpet, trombone / vibraphone, xylophone, snare drum, suspended cymbals, gong, wood blocks, triangle , marimba, bass drum, tom-toms). As the composer said in an interview with Marcin Trzęsiok, in this work he made an ''intentional reference to minimalism. Minimalism is very close to me, especially the first minimalists pieces - some of Reich's scores, and especially Philip Glasss opera. It also happened that I co-lead the twentieth century compositional techniques course at the Music Academy in Katowice and I was landed with minimalism. So I approached minimalism from the theoretical side. It turns out that minimalist technique is much more than it might seem. All this contributed to my intention to use minimalism in my music. But even in this work I do not use it quite so explicitly. Of course, there is a lot of repetition, particularly repetition at a fast pace and constant pulse, which in conjunction with fairly simple harmony gives a minimalistic effect. Hence the title ''minikoncert'' (although there is also a second meaning of this term, indicating the relatively small scale of the piece).'' The full interview with the composer is available in volume 1 of the journal Kwarta http://issuu.com/pwmedition/docs/kwarta_nr_1_16__sierpie__2012/1
22,00 EUR
Suggested retail price.


Other author's publications
Violin with orchestra (ensemble)