Beginning from 2019.01.01 PWM Edition is not going to process any orders placed in internet shop by individual customers from countries other than Poland. Please find your local distributor on the list, or order our sheet music through the Hal Leonard online shop: http://www.musicshopeurope.com http://www.halleonard.com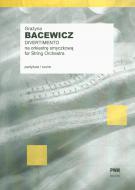 Divertimento
for String Orchestra
Countries of delivery:

Composed in 1965, the Divertimento was written on commission from conductor Karol Teutsch. It was also he, together with the National Philharmonic Chamber Orchestra led by him, who gave its premie re performance at a concert on 21 November 1966 in Munich. Małgorzata Gąsiorowska, in her monograph on G. Bacewicz, described the Divertimento as a sonoristic replica of the Concerto for String Orchestra of 1948 and writes: The demiurgic tritone of previous works becomes here a fundamental element of the construction - and this, already at the beginning of the first movement (Allegro), creating a series of three tritones of variable articulation in the first violins which motif, against the background of a tremolo pedal note in the violas, is played successively by the other stringed instruments. The contour of this model must have inscribed itself so strongly in the composers imagination that she evoked it in her last orchestral work, In una parte, as well as in her ballet Desire. The tritone in large measure shapes the melodic language of the nostalgic second movement (Adagio). The maximal concentration of musical content that we observe in the Divertimento sharpens here the impact of every effect; this is particularly clear in the roguish third movement (Giocoso), sparkling with a variety of ethereal figures - and chief among these, a delicious fragment of tritone glissandi. With a wealth of textural and articulational ideas, in none of the works from this period does the composer go beyond the natural properties of the instruments - creating, despite this, a world full of variable, brilliant colors - in such a way as in the Divertimento.
Language of edition: eng, pol
Number of pages: 28
Cover: softcover
Type: score
Size: A4 vertical (210x297 mm)
12,00 EUR
Suggested retail price.


Other author's publications