Beginning from 2019.01.01 PWM Edition is not going to process any orders placed in internet shop by individual customers from countries other than Poland. Please find your local distributor on the list, or order our sheet music through the Hal Leonard online shop: http://www.musicshopeurope.com http://www.halleonard.com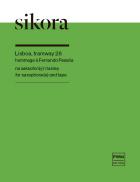 Lisboa, tramway 28 hommage à Fernando Pessõa
for saxophone(s) and tape
Countries of delivery:

The work Lisboa, tramway 28 was written following my journey to Lisbon in search of traces of the writer Fernando Pessõa. This four-movement work for saxophone(s) and tape is a journey in sound, in which the distinct, 'unreal' sounds of the city are combined with the closer, more tangible playing of the soloist on the stage.
I recorded there, on a portable DAT tape recorder, most of the raw material (the sounds of the tramway and of people on the streets and in the Brasiliera cafe). Other sound sources were recorded in the studio (double bass, water, etc.).
The work represents the continuation of my formal experimentation initiated with the cycle of suites (Suite for cello and tape, Suite II for harpsichord and tape, Canzona for viola da gamba and chamber ensemble and Suite III for orchestra). Lisboa, tramway 28 alludes to Głowa Orfeusza II ('Orpheus' head II') for flute and tape.
I am grateful to Richard Benoit for recording the double bass sounds, François Donat for his inestimable assistance during work in the studio, Daniel Kientzy for his creative comments regarding interpretation and Jose Xavier for the beautiful accommodation in Lisbon.
Elżbieta Sikora
Recording is available on the website: https://pwm.com.pl/sikora/lisboa/index.html
ISMN 979-0-2740-1967-9
Language of edition: eng, pol
Number of pages: 24
Cover: softcover
No. of edition: 1
Published: 2019
Type: instrumental solo
Size: N4 vertical (235x305 mm)
14,00 EUR
Suggested retail price.