Beginning from 2019.01.01 PWM Edition is not going to process any orders placed in internet shop by individual customers from countries other than Poland. Please find your local distributor on the list, or order our sheet music through the Hal Leonard online shop: http://www.musicshopeurope.com http://www.halleonard.com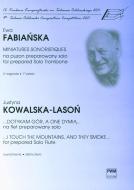 Miniatures Sonoristiques/ ...I Touch the Mountains, and They Smoke
for prepared Solo Trombone/ for prepared Solo Flute
Countries of delivery:

The direct inspiration for my composition entitled Miniatures Sonoristiques came from the creative output of Witold Szalonek, especially from his ''piernikiana'' - a work in which Szalonek (as one of the firts composers in history to do so) calls for the preparation of the tuba. Brass instruments hold immense possibilities for varied sound production and surely not all of them have been discovered yet. The piece Miniatures Sonoristiques is made up of seven segements, in which various ways of preparing the trombone are used. Among them are the use of mutes (straight and cup), playing just on individual parts of the instruments (such as the mouthpiece) or removing them altogether (such as pulling out the tube of the F attachment valve), the use of two-tones (where one of the notes is played, and the other sung by the performer) or a ''percussion effect'' (a way to obtain an intriguing sound reminiscent of chimes or tubular bells). Importantly, the performer becomes a co-author of the piece as he or she is asked to independently arrange the seven segments (thus co-creating the musical form). The performer is also allowed rhythmic liberty and as well as elements of improvisation in selected miniatures. [Ewa Fabiańska]
The piece ''...I Touch the Mountains, and They Smoke...'' was written during the summer 2011, during a long holiday, when I could take time off work in my place of rest in the highlands, hide in a striped hammock, trip on freshly cut, wet grass and feverishly search for wild strawberries, wild strawberries, wild strawberies, getting ready to go into the Mountain, to climb My Mountains, to touch the Mountains, the Mountains that kept on smoking... [Justyna Kowalska-Lasoń]
ISMN 979-0-2740-0771-3
Number of pages: 10+
Cover: softcover
Type: instrumental solo
Size: A4 vertical (210x297 mm)
20,00 EUR
Suggested retail price.