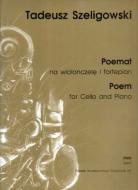 Poem
for Cello and Piano
Countries of delivery:

Cat. no. 10150

ISBN ISSN: 83-224-0777-7
Tadeusz Szeligowski (1896-1963), a richly talented Polish composer, had many varied interests. He was a lawyer by education; he also studied musicology, philosophy and music. He had excellent teachers and his circle of friends included outstanding personalities in the world of science and arts. He was a European, who gifted his wisdom to the service of Polish music. An outstanding composer, he also popularised music and organised the nation's musical life. Apart from operas, revived many times, he also left works of outstanding vitality, such as ''Green Songs'' (1929), ''The Angels Sang Sweetly'' and ''Under the Eaves of Snow'' for chorus, and real ''hits'' such as ''Epitaph on the Death of Karol Szymanowski'' (1937), ''Sonatina for Piano'' and ''Quintet for Wind Instruments''. Among instrumental miniatures a special place is occupied by works for cello and piano (''Orientale'', ''Dance'' and ''Poem'') as well as ''Pastorale'' and ''Saraband'' for cello with organ accompaniment. They were composed in 1945 after the composer had been repatriated from Vilnius to Lublin. The music of these works is characterised by freshness of melodic ideas with audible hints of Spanish songs, the use of ostinato figurations in the piano part, compact form and, above all, the perfect use of the tim-bre and expressive possibilities of the cello as well as the chamber-like texture of both instruments. ''Orientale'', published in 1953 and reissued many times by PWM Edition, and ''Poem'', published for the first time, are real gems in the repertory of Polish cello miniatures.
Series: Educational Series
Language of edition: eng, pol
Number of pages: 16
Cover: softcover
No. of edition: 1
Published: 2001
Type: score, solo part (instrumental) + accompaniment
Size: N4 vertical (235x305 mm)