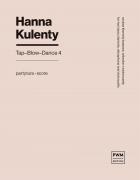 Tap-Blow-Dance 4
for two bass clarinets, vibraphone and violoncello
Countries of delivery:

Tap-Blow-Dance4 for two bass clarinets, cello and vibraphone was written to a commission from Fie Schouten and first performed at the Basklarinet Festijn in 2020. It lasts around 12 minutes.
The title refers to Kulenty's earlier work for solo trumpet. The composer sought to obtain a similar character and emphasise the role of rhythm. Besides playing notes in the traditional way, the musicians stamp in a strictly defined manner, which makes it seem as though they are dancing.
Kulenty's composition is another manifestation of her 'musique surréalistique', characterised by a focus on the relations between time and space, with musical and temporal structures overlapping in such a way as to convey various emotional states and gestures.
The piece was commissioned by the Basklarinet Festijn 2020 with financial support of the Performing Arts Fund NL.
Series: Camera
ISMN 979-0-2740-3349-1
Language of edition: pl, eng
Number of pages: 136
Cover: softcover
No. of edition: 1
Published: 2021
Type: score and parts
Size: N4 vertical (235x305 mm)
Other titles in the series
Other author's publications