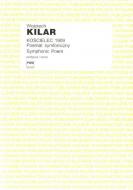 Kościelec 1909
Symphonic Poem
Countries of delivery:

Cat. no. 8544

ISBN ISSN: 83-224-2121-4
The piece was written to celebrate the 75th anniversary jubilee of the National Philharmonic. For Wojciech Kilar this was a time of avid fascination with the Tatra folklore, already reflected in ''Krzesany'', written two years earlier. The piece is clearly associated with the figure of Mieczysław Karłowicz, who died tragically on the slopes of the Mały Kościelec. Written on the 100th anniversary of his birth, it uses the form of the symphonic poem, of which Karłowicz was the most prominent Polish representative. The piece combines three symbolic themes: the first is the ''Kościelec theme'', the second is the ''call of the abyss'' and the third (most developed) - ''fate theme''.
Series: Contemporary Music
Language of edition: eng, pol
Number of pages: 48
Cover: softcover
No. of edition: 3
Published: 2000
Type: score
Size: A4 vertical (210x297 mm)
19,00 EUR


print on demand