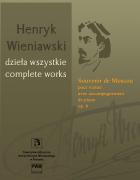 Souvenir de Moscou
pour violon avec accompagnement de piano op. 6 (series A vol. 14)
Countries of delivery:

Souvenir de Moscou Op. 6, also known as Airs Russes, is a splendid example of the instrumental virtuoso miniature, which constituted a permanent entry of Henryk Wieniawski's concert programmes. His appearances would not be complete without such bravura compositions, which were juxtaposed with serious works by Beethoven, Mendelssohn or Bach.

Souvenir de Moscou, or The Memory of Moscow, was Wieniawski's greatest "hit". He played it in all the countries he visited throughout his entire virtuoso career. He performed it more frequently than Carnaval russe Op. 11, which was another Russian-style bravura composition that enjoyed great popularity among audiences. Listeners loved dazzling displays, interlarded with tuneful, easy-to-listen melodies.
Series: Wieniawski - Works
ISMN 979-0-2740-0997-7
Language of edition: eng, pol
Number of pages: 44 (36+8)
Cover: softcover
No. of edition: 1
Published: 2013
Type: solo part (instrumental) + accompaniment
Size: N4 vertical (235x305 mm)