Beginning from 2019.01.01 PWM Edition is not going to process any orders placed in internet shop by individual customers from countries other than Poland. Please find your local distributor on the list, or order our sheet music through the Hal Leonard online shop: http://www.musicshopeurope.com http://www.halleonard.com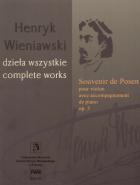 Souvenir de Posen
pour violon avec accompagnement de piano op. 3 (series A vol.12)
Countries of delivery:

Souvenir de Posen Op. 3 was probably composed in Poznań in the first half of 1854, when the nineteen-year-old Henryk Wieniawski still performed with his younger brother Józef, the pianist. Wieniawski dedicated the Op.3 to Jeanette de Niemojowska, daughter of Ludwik Niemojowski. The mazurka made an indelible impression upon Poznan audiences of the Wieniawski Brothers concerts, of which the last was held on 4 July 1854. Despite its simple construction and a smaller number of technical difficulties than in other works by Wieniawski, the composition bears clear marks of the famous virtuosos individual composing style. In the piece by this exponent of the Franco-Belgian violin school one can hear both temperament and vivacity, the beauty of the charming and unassuming cantilena, polyphonic play, single and double harmonics, as well as fragments played on a given string all the way up to the highest positions; in other words, all that marks the style of Wieniawskis compositions: a combination of melodic beauty and brilliance of violin devices, which produces a whole that is touching, sometimes moving and enchanting. [from Magdalena Chylińskas introduction]
Series: Wieniawski - Works
ISMN 979-0-2740-0885-7
Language of edition: eng, pol
Number of pages: 24+4
Cover: softcover
No. of edition: 1
Published: 2012
20,00 EUR
Suggested retail price.