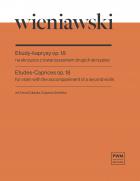 Études-Caprices Op. 18
for violin with the accompaniment of second violin (MV)
Countries of delivery:

Cat. no. 6049

ISBN ISSN: 83-224-2110-9
This edition of Henryk Wieniawski's Etudes-Caprices, op. 18 is based on the Peters, Universal and Czytelnik editions. As it was impossible to compare these editions with the manuscript or first edition, our edition is not of a source character. It is intended for practical performance, and above all for schools. Drawing on their pedagogic experience, the editors have supplemented the score and made minor revisions in the areas of performance markings, fingering, bowing and dynamics. The Etudes-Caprices, op. 18 are not chamber pieces for two violins. They were conceived by the composer as virtuosic etudes with the accompaniment of a second violin. The soloist's part is striking, virtuosic and musically self-sufficient. The part of the accompanying violin plays a very minor role and does not place any great demands on the performer beyond musicality – a crucial stipulation, as always. The solo part can do perfectly well without this modest accompaniment. (In Wieniawski's day, it was customary for teachers to accompany pupils on the violin during lessons.)
Hence in practice the Etudes-Caprices, op. 18 are played almost exclusively as solo pieces, and that is indeed how they feature on the programme of the International Henryk Wieniawski Violin Competition.
However, the score contained in both parts of the Etudes-Caprices, op. 18 may be used for the two violins to play in chamber style together. A suitable 'rejig' is all that is required to produce two parts of an equally virtuosic character.

Irena Dubiska
Eugenia Umińska
Series: Strumento
ISMN 979-0-2740-3293-7
Language of edition: eng, pol
Number of pages: 72
Cover: softcover
No. of edition: 5
Published: 2021
Type: score and parts
Size: N4 vertical (235x305 mm)