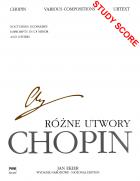 Various Compositions, WN
for Piano (miniature edition)
Countries of delivery:

Cat. no. 51600919

ISBN ISSN: 83-920365-7-3
Volume 29 B V (Various Compositions) contains works of greatly varying difficulty: from the simplest of miniatures, belonging to the pedagogic repertory, to pearls of pianistic lyricism, including masterpieces readily played by the most outstanding pianists. The miniature version of the National Edition does not contain source commentary or performance notes.
Series: Chopin, WN (min. scores)
Language of edition: eng, pol
Number of pages: 76
Cover: softcover
Type: instrumental solo
Size: A5 vertical (145x205 mm)
Table of contents:
| | |
| --- | --- |
| Chopin Fryderyk | ''Spring'' |
| Chopin Fryderyk | Allegretto |
| Chopin Fryderyk | Cantabile |
| Chopin Fryderyk | Ecossaise No. 1 in G major |
| Chopin Fryderyk | Ecossaise No. 2 in Dflat major |
| Chopin Fryderyk | Ecossaise No. 3 in D major |
| Chopin Fryderyk | Galop Marquis |
| Chopin Fryderyk | Impromptu in C sharp minor |
| Chopin Fryderyk | Contredanse |
| Chopin Fryderyk | Lento con gran espressione |
| Chopin Fryderyk | Funeral March in C minor |
| Chopin Fryderyk | Moderato |
| Chopin Fryderyk | Nocturne in C minor |
| Chopin Fryderyk | Nocturne in E minor |
| Chopin Fryderyk | Presto con leggierezza |
| Chopin Fryderyk | Sostenuto |
| Chopin Fryderyk | Variants |