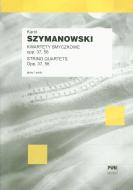 String Quartets
Opp. 37, 56
Countries of delivery:

Cat. no. 8151

ISBN ISSN: 83-224-1052-2
Zdzisław Jachimecki wrote of String Quartet No. 1 in 1927: ''The seraphic beginning of this quartet, constructed from absolutely the most consonant harmonies, produces a real sensation''. In this sonata allegro the atmosphere is typical of Szymanowski's violin music dating from the period during which he was fascinated with impressionism. A quiet but expressive cantilena can be heard most often in the favourite high register against the background of a murmuring accompaniment. The beginning of the second movement introduces a change of atmosphere for a moment. The simple melody of the theme is subjected to variational transformations, the first of which already returns to the atmosphere of the first movement of the Quartet. The lento assai section brings to mind the musical atmosphere of the First Violin Concerto and Myths. This movement is followed attaca by the finale, which brings a complete change in the character of the piece. ''Neither of these movements prepares the listener for the surprise awaiting in the finale of the quartet,'' Jachimecki writes. ''It is a strictly polytonal section built as a fugue in the four keys of the diminished seventh chord C, E flat, F sharp and A major. It is a unique specimen of contemporary music, which achieves the boldest polytonal combinations''. Owing to its motor-rhythm the character of this movement is exceptional in comparison with the musical language of Szymanowski at that time. In the String Quartet No. 2 (1927), dedicated to Dr Olgierd Sokołowski and his wife Julia, an important part is played by rhapsodic cantilena and colouristic effects. As the theme is transformed, the music becomes more and more expressive and a wide range of articulation involving mainly quiet dynamics and con sordino as well as numerous tremolos, trills and flageolets produce unusual sound effects. The contrast and clear animation introduced in the Vivace, scherzando are additionally emphasised by joining the two movements attaca. The rhythmic profile of the scherzo is clear-cut and, what is more, the numerous chords sound in a rough, dissonant way. This movement is characterised by folk influences as it contains motifs clearly related to ''Harnasie''. Echoes of Tatra Highlander music can also be heard in the final double fugue - the second theme of the fugue, derived from the first, is based on the Podhale (Polish Tatra Highlands) scale, and the final climax crowns the quartet with folk-like chords.
Series: Polish Chamber Music
Language of edition: eng, pol
Number of pages: 16+16+16+16
Cover: softcover
No. of edition: 1
Published: 1980
Type: parts
Size: A4 vertical (210x297 mm)
26,00 EUR


print on demand