Beginning from 2019.01.01 PWM Edition is not going to process any orders placed in internet shop by individual customers from countries other than Poland. Please find your local distributor on the list, or order our sheet music through the Hal Leonard online shop: http://www.musicshopeurope.com http://www.halleonard.com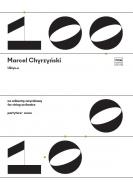 Ukiyo-e
for String Orchestra, score
Countries of delivery:

...Not giving in to depression, flow with the river like a gourd - that's what we call the world that is passing away. (Asai Rioi - Tales of the floating world). The inspiration for my work were the Japanese woodcuts ukiyo-e, or pictures of the floating world from the Edo period (XVII century) until the beginning of the Meiji (1868). These woodcuts represent quintessential everyday life and culture of the time. Old Japan seen in the rays and shadows of that lifetime brought back to life. In my compositions I was inspired by Japanese woodcuts at all levels. From the formal and textural side I referred to the technology used to create them - for the work to receive its final colouristic form each colour is applied to the paper separately. For each colour a new board is used. My work is a deconstruction of a woodcut: it consists of 10 fragments of which the first is the final version. The following fragments are components of the first 'picture' which symbolises the different colours of ukiyo-e. From the emotional side, I referred in turn to Japanese aesthetics. When on our continent buildings were built of marble which were to outlast all kings the Japanese were excited about impermanence. This was to characterise each work of art. The emotional sensitivity associated with sadness and melancholy stemmed from contact with the transience of external beauty. [Marcel Chyrzyński]
ISMN 979-0-2740-2297-6
Language of edition: eng, pol
Number of pages: 44
Cover: softcover
No. of edition: 1
Published: 2019
Type: score
Size: A4 vertical (210x297 mm)
20,00 EUR
Suggested retail price.