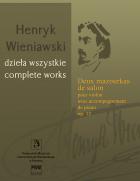 Deux mazourkas de salon
pour violon avec accompagnement de piano op. 12 (series A vol. 18)
Countries of delivery:

Wieniawski composed nine mazurkas, publishing seven of them (Op. 3, 12, 19 and two without opus number); the two unpublished works are lost. The mazurkas are among his early works, dating from the first half of the 1850s, with the exception of the Mazurkas, Op. 19, from 1860. The Mazurkas, Op. 19 (No. 1 Obertass, No. 2 Le ménétrier [The fiddler]) were not published until 1878, almost twenty years after their composition, by Schott of Mainz.
The two Mazurkas, Op. 12 are linked by such features as tonality. La Champêtre begins in D major and ends in G major, so the tonal plan leads from the key of the dominant to the tonic; Chanson polonaise is tonally more stable, adhering to G minor, the minor-mode version of the key that ends the first mazurka, and only in the middle section is there any change of mode (G major). Both mazurkas, as their titles suggest, are of a salon character, as is borne out by their rather sentimental melodic writing and the conventional musical means employed. The piano merely accompanies the violin, forming an harmonic ground and underscoring the triple metre. There is no motivic correspondence between the parts of the two instruments, and in the piano part the melodic element is almost entirely eliminated. The stereotypical accompaniment is built of figures that are characteristic of triple-time dances (a bass ground with supplementary notes). The entire piano part is marked by a simple and uniform texture. The violin part is also quite uncomplicated and – as is relatively rare in Wieniawski – almost entirely devoid of virtuosity, in keeping with the character of this dance. The mazurkas are based on very simple harmonies, with dominant references to the fore, and close tonal relations. There are no references or even allusions to the modal scales that are characteristic of older layers of folklore. The only elements of folk stylisation present in these works are the tonic drones (La Champêtre), employed quite widely by Polish composers, and the imitations of the sound of folk instruments (La Champêtre): the hurdy-gurdy and the traditional pipe (fujarka).
 
Zofia Chechlińska
Series: Wieniawski - Works
ISMN 979-0-2740-1191-8
Language of edition: eng, pol
Number of pages: 44 (12+26+6)
Cover: softcover
No. of edition: 1
Published: 2015
Type: solo part (instrumental) + accompaniment
Size: N4 vertical (235x305 mm)
Table of contents:
| | |
| --- | --- |
| | Chanson polonaise |
| | La Champêtre |