Beginning from 2019.01.01 PWM Edition is not going to process any orders placed in internet shop by individual customers from countries other than Poland. Please find your local distributor on the list, or order our sheet music through the Hal Leonard online shop: http://www.musicshopeurope.com http://www.halleonard.com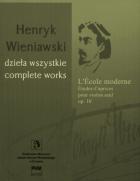 L'École moderne
Études-Caprices pour violon seul, op. 10 (Series A, Vol. 6)
Countries of delivery:

Wieniawski gave the Opus 10 studies (as well as Opus 18) the title ''Etudes-caprices''. On the one hand, this suggests that the pieces were intended as exercises in violin technique; on the other hand, it brings to mind Paganini's collection of caprices, in which the didactic character of the pieces takes an artistic form. As a result, the Opus 10 ''Caprices'', similarly to the Paganini set, can also be performed in concert. Thus, Wieniawski clearly had two aims in mind: that tha violinist attain the highest level of thechnical mastery, but also that the compositions be performable as virtuoso concert pieces. (from the Introduction)

Published with the financial assistance of Ministry of Culture and National Heritage as part of the Promotion of the Creative Output Operational Programme
Series: Wieniawski - Works
ISMN M-2740-0262-6
Language of edition: eng, pol
Number of pages: 52
Cover: softcover
No. of edition: 1
Published: 2007
Type: instrumental solo
Size: N4 vertical (235x305 mm)
16,00 EUR
Suggested retail price.