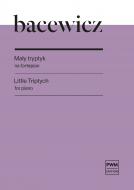 Little Triptych
for Piano
Countries of delivery:

Cat. no. 6085

ISBN ISSN: 83-224-2611-1
The composer adopted the principle of contrasting structures isolated with regard to tempo and metre, in which the tone colour of the piano is of the utmost importance. The work is characterized by the absence of melodic subject matter, the use of clusters, fugitive visions, a variety of moods and an atmosphere of fantasy and subjectivity. The ability to use the pedal properly is of vital importance here. The traditional system of notation used by the composer does not allow any ambiguities about the musical text or any latitude in its interpretation. The sound of the piano is produced from the keyboard only, although some passages of the Triptych resemble very much that type of colouristic effects obtained directly from the strings of the piano in compositions written for the prepared piano. 
Series: Per Strumenti
Language of edition: pol
Number of pages: 8
Cover: softcover
Type: instrumental solo
Size: A4 vertical (210x297 mm)