Beginning from 2019.01.01 PWM Edition is not going to process any orders placed in internet shop by individual customers from countries other than Poland. Please find your local distributor on the list, or order our sheet music through the Hal Leonard online shop: http://www.musicshopeurope.com http://www.halleonard.com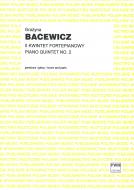 Piano Quintet No. 2
[score]
Countries of delivery:

While basing the narrative structure of the work on montage as well as variation techniques, with a selected group of intervals and intervallic structure playing the most important role, the composer has endowed it with a greater degree of lyrical and dramatic quality; (...) the new role of the piano - as opposed to Bacewicz's earlier orchestral works - is decisive here as it is occasionally treated almost as a solo instrument, in a Romantic manner, or cooperates with the remaining instruments in creating ''colourful sound landscapes'' (...) [M. Gąsiorowska, op. cit.]
Language of edition: eng, pol
Number of pages: 60+8+8+8+8
Cover: softcover
Type: score and parts
Size: N4 vertical (235x305 mm)
36,00 EUR
Suggested retail price.