Beginning from 2019.01.01 PWM Edition is not going to process any orders placed in internet shop by individual customers from countries other than Poland. Please find your local distributor on the list, or order our sheet music through the Hal Leonard online shop: http://www.musicshopeurope.com http://www.halleonard.com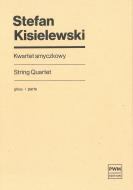 String Quartet
parts
Countries of delivery:

The stylistic idiom of Kisielewskis music is derived from neoclassical poetics. Rejecting the non-musical content of the work, the composer emphasized the structural aspect. A characteristic feature of Kisielewskis writing is stylistic synthesis, involving the fusion of traditional formal-technical models with modern harmonic language, balancing at the interface between atonality and tonality, and the new type of sound. The String Quartet, composed by Kisielewski in 1935, consists of four movements (I - Allegro moderato, II - Adagio, III - Tempo di Gavotte, IV - Presto con fuoco).
Series: Camera
Language of edition: eng, pol
Number of pages: 48
Cover: softcover
Type: parts
Size: N4 vertical (235x305 mm)
18,00 EUR
Suggested retail price.