Beginning from 2019.01.01 PWM Edition is not going to process any orders placed in internet shop by individual customers from countries other than Poland. Please find your local distributor on the list, or order our sheet music through the Hal Leonard online shop: http://www.musicshopeurope.com http://www.halleonard.com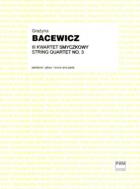 String Quartet No. 3
Countries of delivery:

String Quartet III was created in Paris in 1947. This is one of G. Bacewiczs most internally balanced works, maybe the closest to the ideal ''Sérénité'', characteristic of Romanesque spirituality. In this work, whose outer movements show activity as a major creative force, it never comes to extreme situations - in the sense of the word, or in the use of technical resources. The element of movement here is derived from the logic of motivic connections and development of form, the scale of tension is moderated according to internal order, a regular course. In the third Quartet there remained still a characteristic of the composers style of this period: the dominance of linear structures over vertical: the latter, not without a certain harmonic refinement, which however, seems to be the result of the interaction of independent melodic lines. String Quartet III, the most important work of 1947 completes the picture of the full blossoming of her creativity, as a work despite later, romantic-expressionist tendencies an integrated work, whose individual parole is easily recognizable. This is the first of a series of five mature quartets from the years 1947, 1951, 1955, 1960 and 1965, which, like no other piece forms a turning point in the career of the composer. As a whole, these works have no equal in Polish music of the twentieth century, being, after the Bartok quartets, an essential element in the development of the genre. Małgorzata Gąsiorowska [fragment of the monograph ''Bacewicz'']
Language of edition: eng, pol
Number of pages: 64+70
Cover: softcover
Type: score and parts
Size: A5 (score) + B4 (voices) (145x205, 244x340 mm)
45,00 EUR
Suggested retail price.