Beginning from 2019.01.01 PWM Edition is not going to process any orders placed in internet shop by individual customers from countries other than Poland. Please find your local distributor on the list, or order our sheet music through the Hal Leonard online shop: http://www.musicshopeurope.com http://www.halleonard.com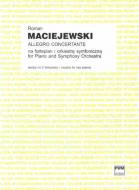 Allegro concertante
for Piano and Symphony Orchestra (version for two pianos)
Countries of delivery:

Cat. no. 10234

ISBN ISSN: M-2740-0015-8
''Allegro concertante'' for piano and symphony orchestra was composed in 1944, when the composer was living in Sweden. Originally it was supposed to form the first movement of an intended piano concerto and the ''Cradle Song'' for piano and orchestra, composed soon afterwards, was to have been the second movement. Eventually the composer relinquished the plan, giving the players the freedom to perform these works as they wish (in the case of a performance of both works it is usual to start with the slow ''Cradle Song'' as an introduction to the larger-scale ''Allegro''). The present version of ''Allegro concertante'' is the composer's original version, in which the orchestra part is reduced to a second piano part. The absence of orchestral colouring, which naturally absorbs the listener's attention, enhances the clarity of the partner-like dialogue between both parts, also enabling more attention to be focused on harmonic complexities. As regards form, the work is a traditional sonata allegro with an exposition, development and recapitulation. An introduction consisting of several dozen bars prepares for the appearance of the first theme containing characteristic motifs (a semiquaver group and syncopation), which provide excellent material for development. The section of the work based on this material abounds in sequences with chromatic-harmonic nuances, changes from major to minor modes and dissonant, grotesque chords. A complete change of mood comes with the appearance of the second theme, subsequently used by the composer in the recapitulation as material from which a cadenza, characterised by an exceptional profundity of expression, is derived. The piece is crowned by a spectacular, virtuosic coda. As in Maciejewski's other piano works, the music is marked by great wealth of invention; drawing on what is best and most valuable in the piano literature from baroque to contemporary [20th c.] times, the composer employs his own idiom, brilliant, sometimes bravura-like, full of surprises, in which chromatic aggregates alternate with clear passages, while other contrasts involve tonal and politonal chords, and changes from wide ranges involving extreme registers to simple one- or two-part writing in the middle register, successions of semiquavers being full of surprising accents and seemingly smooth short scales which unexpectedly break down. All this, held together within an absolutely logical structure, requires high artistry and perfect technique from the performers. [Elżbieta Widłak]
Series: Contemporary Music
Language of edition: eng, pol
Number of pages: 76
Cover: softcover
No. of edition: 1
Published: 2003
Type: piano reduction
Size: N4 vertical (235x305 mm)
31,00 EUR
Suggested retail price.