Beginning from 2019.01.01 PWM Edition is not going to process any orders placed in internet shop by individual customers from countries other than Poland. Please find your local distributor on the list, or order our sheet music through the Hal Leonard online shop: http://www.musicshopeurope.com http://www.halleonard.com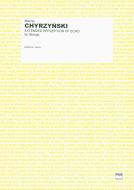 Extended Perception of Echo
for Strings
Countries of delivery:

Extended Perception of Echo for Strings was composed in 1992. The melodic content of this composition has been reduced to diatonic progressions; the rhythm has been stripped down to basic values. The harmony is the result of the use of a canon in key groups of instruments (clusters of seconds). The ''chamber music'' fragments are woven with a tutti refrain that is differently orchestrated each time it is heard. A key aspect of the composition is the unusual arrangement of instruments and the fact that each passage is repeated in strict technical imitation. The combination of these two elements creates the effect of an echo. Extended Perception of Echo for Strings represented Polish contemporary music at the International Fair Midem Classique 2000 in Cannes.
Language of edition: eng, pol
Number of pages: 12
Cover: softcover
Type: score
Size: A3 vertical
6,00 EUR
Suggested retail price.