Beginning from 2019.01.01 PWM Edition is not going to process any orders placed in internet shop by individual customers from countries other than Poland. Please find your local distributor on the list, or order our sheet music through the Hal Leonard online shop: http://www.musicshopeurope.com http://www.halleonard.com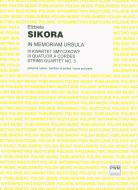 In memoriam Ursula
String quartet no. 3
Countries of delivery:

When Véronique Cherrier offered me to compose five short, two-minute pieces, every one of which would constitute a musically legitimate whole, I instantly thought of a string quartet. Not only because of its characteristic sound, but also because of its formal potential. I have been working on the cyclic form for many years now. After a series of suites for an instrument solo and tape, I reached for a multi-movement form in Suite III (baroque) for orchestra, and in Lisboa, tramway 28 for saxophone and tape. Quartet III fits into this research direction. Composed of five contrasting movements, the piece refers to the musical tradition, preserving at the same time the features of my own music language. Four instruments serve as parts of a homogeneous whole that allow construction of complex sound objects with the use of both the traditional manner of play and sonorist means. Two minutes is both a little and a lot. Every movement contains five short musical tales carrying no defined meaning. Quartet III was composed to commemorate my niece Ursula who died in a car accident at the age of twenty-four. [Elżbieta Sikora]
ISMN 979-0-2740-0940-3
Language of edition: eng, fre, pol
Number of pages: 36+14+14+14+14
Cover: softcover
No. of edition: 1
Published: 2013
Type: score and parts
40,00 EUR
Suggested retail price.


Other author's publications