Beginning from 2019.01.01 PWM Edition is not going to process any orders placed in internet shop by individual customers from countries other than Poland. Please find your local distributor on the list, or order our sheet music through the Hal Leonard online shop: http://www.musicshopeurope.com http://www.halleonard.com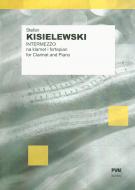 Intermezzo
for Clarinet and Piano
Countries of delivery:

Intermezzo: the slightly harsh, yet tonal harmony of the ''Intermezzo'' contrasts with flowing, rhythmical quavers. The piano part is almost completely dominated by this particular rhythm, through which the pieces gains its own kind of ''perpetuum mobile''. The clear formal structure is based essentially on the ABA model, but there is no lack of elements clearly indicating thoughts of variations. The composer prevented monotony of rhythm by making frequent changes of metre. The beginning of the piece belongs to the piano - it initiates ''biting'' dry quaver runs. The clarinet presents the main theme against a uniform background accompaniment suggestively, like an ironic grimace. This motive appears several times in the first formal episode (or ''A''), time and time again undergoing deformation or dismemberment. Semiquaver sequences also appear. In the central formal section (B), the composer introduces a new theme a wide-interval procession in crotchets in an ascending direction (''up''), which greatly enhances the emotional tension. This motive is juxtaposed with that previously shown which makes the ''B'' section a kind of development. Also the main idea of the piece - the ''grimacing'' clarinet theme - is present here in a slightly distorted form. In the final formal section (A'), all motives return, competing with each other. The tension increases consistently until the end of the piece, topped with brutal piano chords.
Series: Per Strumenti
Language of edition: eng, pol
Number of pages: 12+2
Cover: softcover
Size: A4 vertical (210x297 mm)
6,00 EUR
Suggested retail price.