Beginning from 2019.01.01 PWM Edition is not going to process any orders placed in internet shop by individual customers from countries other than Poland. Please find your local distributor on the list, or order our sheet music through the Hal Leonard online shop: http://www.musicshopeurope.com http://www.halleonard.com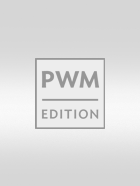 Musica concertante
per orchestra
Countries of delivery:

Composition for instrumental chamber ensemble: piccolo, soprano saxophone, bass clarinet trumpet, 2 harps, a strengthened string quartet (14 string intsruments) and 22 percussion instruments. Musica concertante consists of seven short movements, each of which has a different instrumentation. Tutti is only used in the fourth movement, which forms the culmination point in the development of the cycle. Formally, the piece is built on the principle of continuous permutations of inversions of serially organised sound material. Musica concertante was given a distinction at the Grzegorz Fitelberg Composition Competition in 1958. The premiere took place at the International Music Festival in Darmstadt in 1958.
Series: Library of Miniature Scores
Language of edition: pol
Number of pages: 74
Cover: softcover
Type: score
Size: A5 vertical (145x205 mm)
23,00 EUR
Suggested retail price.