Beginning from 2019.01.01 PWM Edition is not going to process any orders placed in internet shop by individual customers from countries other than Poland. Please find your local distributor on the list, or order our sheet music through the Hal Leonard online shop: http://www.musicshopeurope.com http://www.halleonard.com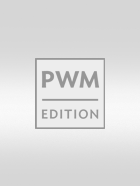 Musica sinfonica in tre movimenti
for Large Symphony Orchestra
Countries of delivery:

This composition differs from other Bacewicz's works in every respect: the traditional subject matter or motivic material is abandoned and replaced by a tangle of instrumental lines conducted in a completely different manner; the work's texture and orchestration are entirely new, unusually enriched and varied; an extremely colourful instrumentation and its incessantly varied pulsation fascinates the listener; there is no trace of the former homogeneous, clear-cut (sometimes even awkward) and vigorous rhythms of Bacewicz's earlier compositions. Of the utmost importance for me, however, is a new kind of emotionalism, the new expression which pervades the piece: a Rousselian monumentalism of the four symphonies is replaced by a very direct and spontaneous expressionism... [S. Kisielewski, Ruch Muzyczny 1965, No. 17]
8,00 EUR
Suggested retail price.