Beginning from 2019.01.01 PWM Edition is not going to process any orders placed in internet shop by individual customers from countries other than Poland. Please find your local distributor on the list, or order our sheet music through the Hal Leonard online shop: http://www.musicshopeurope.com http://www.halleonard.com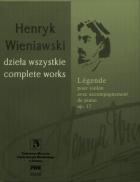 Légende pour violon avec accompagnement de piano
Op. 17 (Series A, Vol. 5)
Countries of delivery:

''Légende'' op. 17 for violin and piano, was written in 1859 in Ostende, when he had fallen passionately in love with Isabelle Hampton, his future wife. Nostalgia, pain and love emanate from each element of the work, all factors contributing to the works over-riding expressive aims: a minor key, a lyrical, tuneful melody, a ballad atmosphere, gradation of intensity by means of the increasing use of tremolo in the accompaniment, and tonal contrast - G major being used in the middle section. The work is a typical Romantic miniature, with a simple tripartite ABA structure. It possesses an intense, expressive charge as a whole.

Published with the financial assistance of Ministry of Culture and National Heritage as part of the Promotion of the Creative Output Operational Programme
Series: Wieniawski - Works
ISMN M-2740-0263-3
Language of edition: eng, pol
Number of pages: 30+4
Cover: softcover
No. of edition: 2
Published: 2010
Type: solo part (instrumental) + accompaniment
Size: N4 vertical (235x305 mm)
20,00 EUR
Suggested retail price.